This article reflects the opinion and analysis as well as information collated by AE Research Management Sdn Bhd, and does not constitute an investment advice or recommendation
According to a recent Nikkei survey, capital investment by Japanese companies is set to rise by 16.9% to a new record in the fiscal year ending Mar-2024. This will represent a strong consecutive annual increase. Many Japanese companies are committing to higher capex in their new medium-term plans compared to the previous term. A typical example is Kyocera, which expects to spend JPY 1.3trn on capex and R&D in the three years ending Mar-2026, doubled from the previous 3 years.
We are increasingly convinced that the two decades slide in corporate capex by Japanese companies (see chart below) is now reversing and will trend upwards through the 2020s.  Robust capital spending has become a structural trend and will be less sensitive to short-term business cycles, driven by need to enhance supply chain resiliencies and address the skilled labor shortages.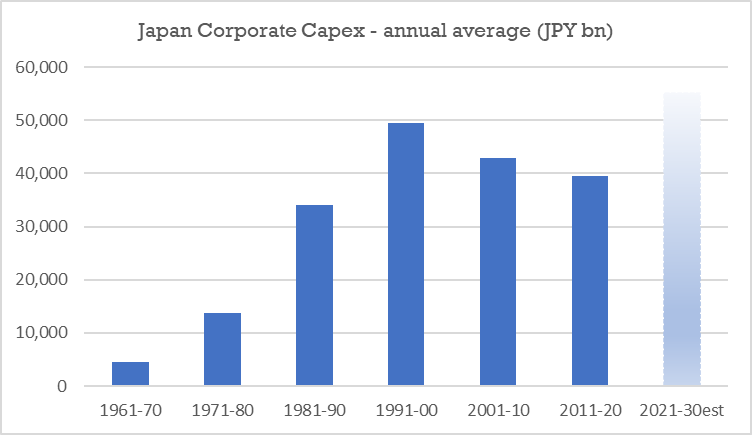 Source: MOF Japan, AE Research Management (est)
Equally important is the features within the corporate capex in the coming years:
many new/greenfield factories in domestic Japan after a long hiatus;
accelerated relocation of production back to Japan from overseas
Investment plans by semiconductor players are well highlighted. In response to fiscal incentives and the construction of wafer fabs in Kumamoto by Taiwan Semiconductor Manufacturing Co, Japanese material & equipment suppliers have also responded by building greenfield support bases. These will include a new silicon wafer plant in Suga prefecture costing about JPY 200 bn by SUMCO, and the first new lithography equipment factory in 21years by Canon in Tochigi. Besides logic, there are also large expansion in the pipeline by power & analog semiconductors makers, such as Rohm, Renesas and Mitsubishi Electric.
The capex boom is not confined to semiconductor supply chain. TDK will spend JPY 50bn to construct a greenfield multi-layer ceramic capacitors plant in Iwate, JFE will build a plant to produce electric steel sheet for EV motors at a cost of JPY 50bn in Okayama, Fujifilm will construct its first bio-CDMO facility in Japan, to name a few.
Simultaneously, many companies are also relocating production back to Japan. For example, Yaskawa Electric has committed JPY 60bn to expand production capacity for inverters (used in aircon and elevators) in Fukuoka, to raise its Japan production ratio to 50% from 25%.
Extremely Competitive JPY
The reindustrialization boom in Japan will take place even if USD-JPY had remained at the 2021 levels of around 110. As it turns out, JPY experienced a massive depreciation since 2022 on expectations of continual monetary tightening in most countries while BOJ maintains a loose monetary regime for longer. The magnitude of depreciation is surprising, considering that Japan is still the world largest creditor nation and the largest holder of US government debt!
The real effective exchange rate (REER) of JPY, which is the nominal exchange rate adjusted for inflation differentials, has now become as competitive as it was back in late 1960s (see chart below).  Price and wage inflation has been much slower in Japan than elsewhere.  Typically, a low inflation country has a strong currency over time.  That JPY nominal exchange rate has also become cheaper, simply placed Japan Inc at its most competitive position ever since just before Japanese consumer & automotive goods dominated the world markets in the 1970-80s. 
Real Effective Exchange Rate of Japanese Yen (1970-2023)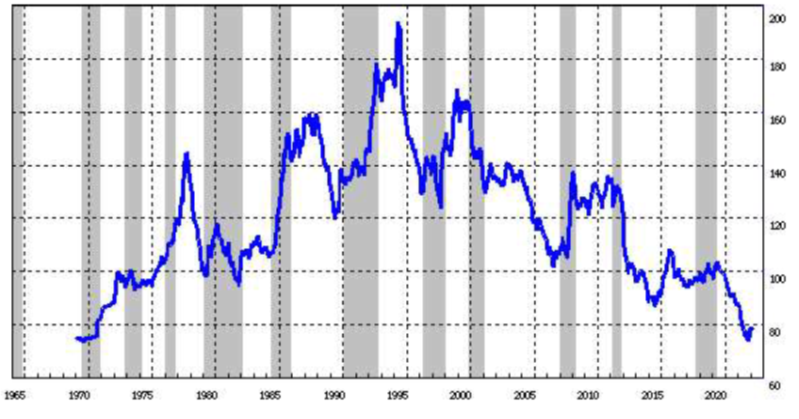 Source: BOJ
This time, Japan Inc is offering advanced superior technologies but at emerging market prices!
Multiplier Effects to Smaller Firms
During the stagnation of the previous 2 decades, many large Japanese corporations with deep technological capabilities were still able to grow by operating in the global markets. Recent reshoring of supply chain back to developed economies will also benefit these large corporations as they have established presence in US and EU, beside in home base Japan. For example, a capex and infrastructure boom in US will benefit Shin-Etsu Chemical which has become the largest PVC manufacturer in the US. Similarly, an increase in factory investment in EU will benefit machine tool maker DMG Mori which has a leading presence in Germany.
By contrast, an industrial renaissance within domestic Japan will have the strongest multiplier effects on smaller companies that are part of the factory capex & maintenance supply chain. These smaller firms tended to have disproportionate of their revenue from Japan, not necessarily from incompetent technological capabilities, but often because of the nature of their business or the lack of resources to configure a direct global marketing & service network.