This article reflects the opinion and analysis as well as information collated by AE Research Management Sdn Bhd, and does not constitute an investment advice or recommendation
Recently, the US FDA approved aducanumab, a monoclonal antibody drug developed by Biogen Inc and Eisai Co Ltd to treat Alzheimer's disease in early state patients, the first time in 17 years that the FDA has approved a drug to treat this neurodegenerative disease. The therapeutic mechanism of action is to clear amyloid plaque from the human brain, and there are similar drugs in the pipeline at other pharmaceutical firms.
Besides the drugs per se, mass adoption of such treatment hinges on advancement in precision diagnostic system to enable the detection & measurement of amyloid protein, by simply using small quantity of blood samples. Presently, the measurement of amyloid in the brain are carried out via the radioactive PET scans or cerebrospinal fluids tests, which are burdensome and highly invasive to patients, especially if perform on continual basis during the course of treatment.
In this regard, Shimadzu Corporation (based in Kyoto, Japan) has commercialized a mass spectrometry system that can perform such measurement by using minute blood sample. Concurrently, Sysmex Corporation (based in Kobe, Japan) has also developed a high-precision immunoassay IVD (invitro diagnostic) kit to perform similar non-invasive test for amyloid accumulation.
Both are key milestones in liquid biopsy, a parallel megatrend to precision medicine.
Precision Medicine – the Key Pillars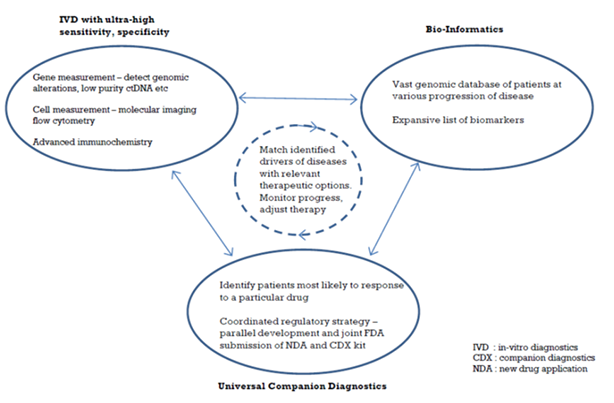 Source: AE Research
Rather than the one-to-all model of conventional medicinal practices, precision medicine is gaining prominence thanks to the advancement of equipment system design, both for disease diagnostics and drug composition analytics. A sub group of patients with similar genome test, close level of same biomarker in blood, or having similar responses from the use of a particular drug cocktail, can be treated with more specificity. Hence the name – precision medicine.
The primary enabler of precision medicine has to be the ability to measure DNA/proteins/cells at ultra-high sensitivity and specificity. The precision and specificity required is 100-1000x compared to conventional methods, as it involves measurement of minute quantities of substances that have leaked from diseased areas into bodily fluids (such as circulating tumor DNA or ctDNA, circulating beta-amyloid mass). Only if the input data is reliable and comprehensive, will bio-informatics/AI (artificial intelligence) be helpful as treatment decisioning tools.
Life Sciences Instrumentation
Excellent examples of instrumentation technologies for life sciences are liquid chromatography (LC) and mass spectrometry (MS). Of note, the blood biopsy for amyloid protein by Shimadzu applies the immunoprecipitation and mass spectrometry (IP-MS) techniques.
Chromatography technique provides excellent separation of various substances in the sample. However, the technique can only provide a partial qualitative picture when analysis of many components is involved. On the other hand, MS is a high sensitivity detection method in which analyte species are first ionized, and then separated in a vacuum to measure for its ion intensity.
As mass number is specific to a particular molecule and coupled with measurement of its ion intensity, MS will assist in both qualitative and quantitative information with high selectivity of components which elutes the LC column separation. Combination of both techniques thereby allows for a wide analyte accommodation and selectivity, making LC-MS systems a powerful detector.
Combination of LS and MS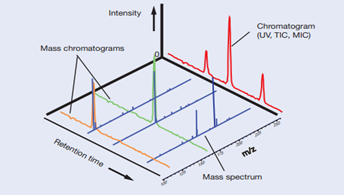 Source: Shimadzu Corporation
Advanced diagnostic instrument design also requires deep understanding of chemistry, in order to develop proprietary reagents or ionizers for a wide range of actionable biomarkers.
For example, the first use of MALDI (matrix-assisted laser desorption ionization) technique for analysis of biomolecules, was introduced commercially by Shimadzu Corporation in 1988. A suitable matrix compound has to be determined for the pretreatment of the sample. By utilizing a mild matrix material mixed with analyte before ionization, the matrix protects the analyte during ionization enabling the MS analysis of samples. A matrix should have a strong optical absorption in the UV or IR range for common laser irradiation. Its molecule should be easily evaporated using laser, but not easy enough to evaporate without ionization. Having a fundamental understanding of the matrix molecular design and selection is a definite competitive advantage.