This article reflects the opinion and analysis as well as information collated by AE Research Management Sdn Bhd, and does not constitute an investment advice or recommendation
Pharmaceutical companies spend heavily on R&D – the equivalent of 15-20% of revenue are not uncommon. Yet until recently, there has been continual decline in R&D efficiency since 1960s – measured by number of new molecules approved per USD 1 bn in global R&D spending (chart 1).
Chart 1: Pharmaceutical R&D Efficiency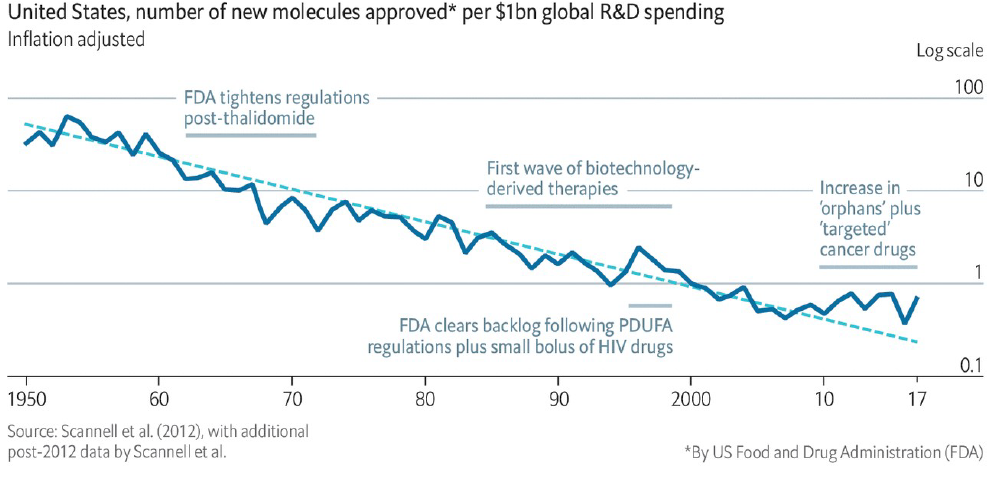 In recent years, there appears to be encouraging stabilization in R&D efficiency, which observers attribute to the increase in approvals of orphan drugs and 'targeted' cancer drugs. We believe there are other powerful dynamics at play that will underpin trend improvement in ROI (return on investment) of drug discovery in the coming decade, in particular:
utilization of broader range of drug modalities;
enhanced screening methods for early termination of non-viable candidates;
use of biomarkers/molecular diagnostics to better select patient subsets at clinical trials.
Broader Range of Drug Modalities at Disposal
Accumulated R&D efforts over the past decades have resulted in broadening of drug modalities beyond the conventional small molecules and monoclonal antibodies.
Cutting-edge drug platform encompasses a myriad of novel modalities such as bispecific antibodies, recycling antibodies, CAR (chimeric antigen receptor) T Cells, siRNA (small interference ribonucleic acid), oncolytic viruses, regenerative medicine, and multi-specific medicines (eg. BiTE, bispecific T cells engager).
Introduction of novel modalities have vastly expanded the druggable targets, enabled development of drugs with greater efficacy and higher safety, and introduced alternative therapeutic approaches such as immune checkpoints or RNA interference.
The use of ADCs (antibody-drug conjugates) also opens up new dimension in precision cancer treatment using established chemotherapy cocktails.
Another significant development in pharmaceutical R&D is the work on middle molecules (peptides, nucleic acids) which will greatly expand the potential for drug discovery (table below).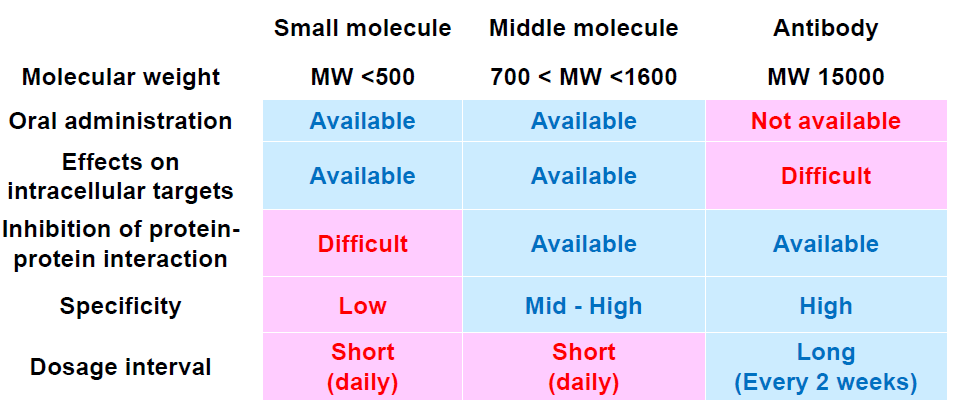 Source: Chugai Pharmaceutical
Recently, that many high-efficacy Covid19 vaccines are being rolled out at unprecedented pace, is attributable to the range of modalities applied beyond the traditional inactivated virus strategy.
Wealth of accumulated research information at major pharmaceutical companies can now be mined with AI (artificial intelligence) algorithms, to search for new drug designs and targets, ie the use of AI/big data to maximize future value of R&D assets.
Reducing Late-stage Drop-out Rate
A structural issue faced in drug development has been the high dropout rate of lead candidates.
Pharmaceutical companies have been employing genomics and proteomics to assist in target identification and lead candidate optimization. Advances in genomics/proteomics sciences coupled with availability of sophisticated mass spectrometry (and other analytical instrumentation), have enabled a much more holistic analysis of human biological phenomena vital to drug research.
Animal models has been the dominant physiological system to evaluate a drug candidate prior to entering expensive clinical trials, but translatability to humans have been major issues. Recent discovery of human iPS cells (induced pluripotent stem cells) which have a potential to differentiate into various cell types that constitute human body, are also expected to be a valuable resource in drug research.
In tandem with precision medicine, biomarkers are increasingly designed to be used at all stages of drug development. Molecular diagnostic (MDX) helps to precisely understand the changes in living cells caused by the administration of a candidate drug. This facilitates identification of the subset of patients likely to benefit, thereby improving the success probability of clinical trials.