This article reflects the opinion and analysis as well as information collated by AE Research Management Sdn Bhd, and does not constitute an investment advice or recommendation
Recent pandemic, ensuing supply chain crises as well as geopolitical tensions have amplified structural issues that the world economy will have to grapple with for many years to come.  There is clearly a need for faster technological progress, yet at the same time, the world faces a lack of deep engineering capabilities to drive it.
In this article, we highlight the post-pandemic evolution in the areas of industrial automation, hospital clinical workflow and energy efficiency & security as illustration.
Unabating Pace of Industrial Automation
Factory automation is an established trend that appears to be accelerating.  In 1995-2005, new robot installation worldwide grew by 5.6% p.a., accelerated to 7.5% p.a. in 2006-2015 period, and in the past 6 years, notwithstanding some consolidation in 2019-2020, the pace has nudged above 10% p.a. (see chart).
There are compelling reasons to believe that rapid pace will be sustained in the next 5-7 years:
ageing workforce globally, including in China;
investment to build resiliency in supply chain post-pandemic, by operating at multiple factory locations;
Labour shortages is becoming a structural issue at traditional manufacturing hubs of the world. For example, a quarter of China's population will be over 60 years old by 2030, underpinning the need for more advanced automation and robotization.
For strategic supply chain reasons, factories are being built again in developed economies such as the US and EU. As the workforce in these locations are more expensive, demand for smart factory solutions will inevitably rise.
While there are hundreds of industrial robot makers globally, the supplier of mission-critical parts is highly concentrated. In particular, the speed reducers, a critical part accounting for 35% of the robot's cost, are largely produced by Japanese companies. Every joint of an articulate robot is driven by a servo motor and a speed reducer – the latter offloads the fast rotation of motors into a higher torque to support heavy payload.
Engineering wise, there are three main types of robot gear: rotary vector (RV) reducer, harmonic reducer, and planetary reducer.  RV gear reducers have the most sophisticated configurations and are designed to carry heavy payload at a high speed, despite its small feature size. RV gear reducers were first manufactured in Japan, and some 75% are still being produced in Japan, led by market leader Nabtesco.  
Improving hospital efficiency
The pandemic has exposed the chronic underinvestment in hospital clinical workflow and the acute shortage of medical personnel.  Hospital capex will now be structurally elevated globally, not just from the one-time boost of building infectious diseases treatment facilities. 
Herein, medical device makers that have very strong combinational capabilities in both biochemistry and medical electronics, are able to introduce innovative workflow solutions.
For example, Sysmex Corporation's new hematology systems feature world's first scheduling function, automated startup and shutdown, and automatic quality control.  The system reduces manual operations and allow hospital staff to focus on specialized work. Apart from that, the in-built AI-based diagnostic will alert clinicians on morphological abnormalities and provides disease forecast, thus increasing productivity and diagnostic precision.
Similarly, patient monitor maker Nihon Kohden is emphasizing digital health solution in its next generation systems, such as platform to consolidate patients' vital sign data from medical equipment and analyze the data using AI, tele-ICU, alarm management to notify of changes in patient condition, and dashboard functions for viewing hospital-wide data.
Rethinking energy policies
Perhaps the greatest reassessment will take place in the energy strategies towards net zero (emission) targets of year 2050.  Currently, 60%of the world electricity is still generated from fossil fuel. To eliminate the use of fossil fuel in less than 30 years is simply unrealistic.  Furthermore, wind and solar will require massive build-out in storage batteries, that will impose huge demand on world minerals where the supply vulnerability has been exposed by recent pandemic and Ukraine crisis.  Other low carbon alternatives such as hydrogen still faces a lot of scientific hurdles.
Henceforth, it is likely that LNG as an energy source will enjoy longevity and the investment boom in LNG infrastructure will be extended. At the same time, thermal power plants are likely to remain in operation well beyond 2030, but will undergo upgrades and strict maintenance to reduce the pollution footprint – for example, to enhance the efficiency of the pump systems, the use of ultra-super critical boilers for cleaner combustion at higher temperature/pressure, etc.
A major winner in the reassessment on long-term energy policies and security will be nuclear power. To achieve net zero by 2050 while significantly reduce dependence on fossil fuel, will require increased share of nuclear power, which is clean, reliable and have smaller footprint.
The bottleneck could be the acute lack of capabilities in nuclear sciences. Prolonged marginalization of importance of nuclear by world governments have resulted in dwindling number of nuclear specialists – for eg. the number of companies with nuclear accreditation (the N-stamps) has fallen by more than 70% over the past 30 years. Surviving firms in this field of engineering will have pricing negotiation power.
Key initiatives in the coming years include to refurbish the huge number of nuclear plants that are reaching the end of their 1st license lifespan of 40 years.  Based on the distribution of world nuclear plants by age, there is a bunching in plants that are already 30-40 years in operation (see chart).  This imply massive nuclear upgrade demand in next 5-10 years – replacement of equipment such as reactant coolant pumps and steam generators (which are in constant contact with radioactive water) as well as reactor vessel heads.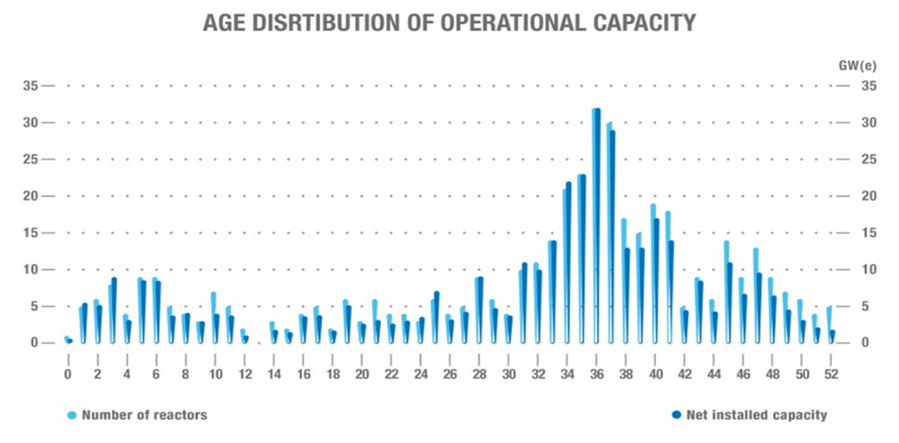 And from the late 2020s, we will see the take-off in new build of small modular reactors (SMRs), which are submerged entirely in water thereby reducing the risk of meltdowns.  SMRs are manufactured and delivered to site, making it a preferable approach to overcome sky-high nuclear plant construction cost and extended construction time.