This article reflects the opinion and analysis as well as information collated by AE Research Management Sdn Bhd, and does not constitute an investment advice or recommendation
One sector facing the most acute shortage of skilled workers is in healthcare. Estimated shortfall of healthcare workers is 17+ million globally. Demand for healthcare workers has been rising along with the expanding treatment options and rapidly aging population.
Like the general population, the healthcare workforce is also aging. For example, the proportion of registered nurses (RNs) age 60 years or older in the US is approaching 1/3rd of total (chart below) and the median age has reached 52 years in 2020. Researchers estimate that at least 1 million RNs in US or more than 4 million RNs globally will retire by 2030. Besides demographics, the situation is further exacerbated by factors such as undesirable work schedule and unmanageable workload, and inadequate compensation.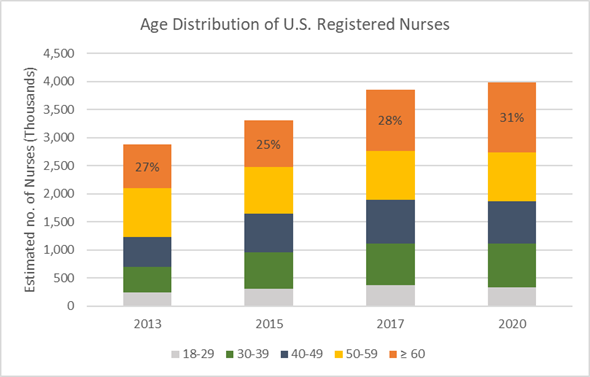 Source: 2020 National Nursing Workforce Survey (US)
The ongoing shortage has highlighted the need to improve healthcare operational efficiency through both automation and digitalization. In our opinion, in devising the functional solutions, it is mission-critical to possess vast amount of domain knowledge accumulated and documented over time. Many Japanese medtech companies with such background, have applied their engineering capabilities to develop solutions, by combining artificial intelligence (AI) software with product craftmanship and deep domain knowledge.
Sophisticated Patient Monitoring Systems

Source: Nihon Kohden Corporation
One of the greatest challenges in nursing efficiency is the intense amount of interruption between tasks. Products of Nihon Kohden address these issues by providing simultaneous and continuous monitoring of patients through a central nursing station and remote viewing app. Algorithms are integrated to reduce unnecessary trips from false alarms and to identify potential adverse events to ensure immediate intervention.
Paramount Bed Holdings of Japan is supporting the needs of elderly care through smart beds with fall alarms. Nurses will be alerted when a change in patient position is detected, such as when the patient sits up or leaves the bed.
Surgical Automation
In the surgical field, medical robots have become widely used in urology, gynecology and general procedures. Intuitive Surgical Inc with its da Vinci system is the pioneer in this space. In Japan, medical device maker Sysmex has partnered with Kawasaki Heavy Industries to launch a Japanese robot, HinotoriTM that could perform delicate movements as a surgeon's arm. The robot supports surgeons by enhancing vision, improving precision, and reducing fatigue during lengthy operations.
Nihon Kohden is developing a robot anesthesia system, which administers controlled doses of anesthetics based on real time feedback of patient's sedation and neuromuscular status. The use of automated anesthetic administration reduces anesthesiologists' effort to continuously maintain and regulate anesthetics, thereby overcoming burnout and enable better focus on patient management.
Diagnostics AI
Hospitals are adopting AI-powered diagnostic platforms to overcome staffing shortages, particularly in radiology. There has been a chronic shortage of radiologists in many countries, with the number of CT/MRI scans performed far outpaced the number of radiologists – for example in Japan, between 2007-2018, number of CT scans/year grew by 72% while number of radiologists rose by only 42%.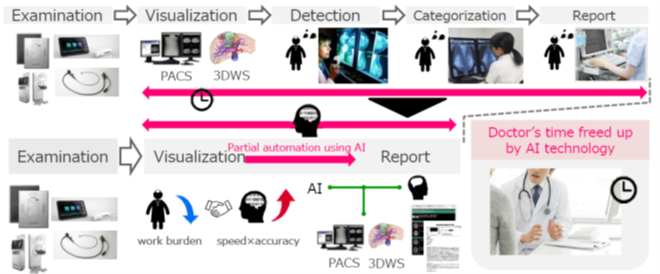 Source: Fujifilm Holdings
Fujifilm's medical AI technologies "REiLI" could be a clear winner given the company's wealth of domain knowledge. The company has been developing image processing technologies for more than 80 years, and its SYNAPSE system commands the world's highest market share in PACS (picture archiving communication system) at hospitals globally. Large accumulated data means more training for the AI algorithm, leading to a more accurate model. Partial automation using AI to perform image enhancement, organ segmentation and detection of abnormalities in tissues, will reduce work burden while improving of the speed & accuracy of diagnostic procedures (chart above).
Similarly, endoscope maker, Olympus has elevated the standard of endoscopy by integrating a real-time AI polyp detection platform into its endoscopy system. With this application, endoscopist will be alerted when a suspected lesion appears and could also potentially shorten the learning curve of young endoscopists.